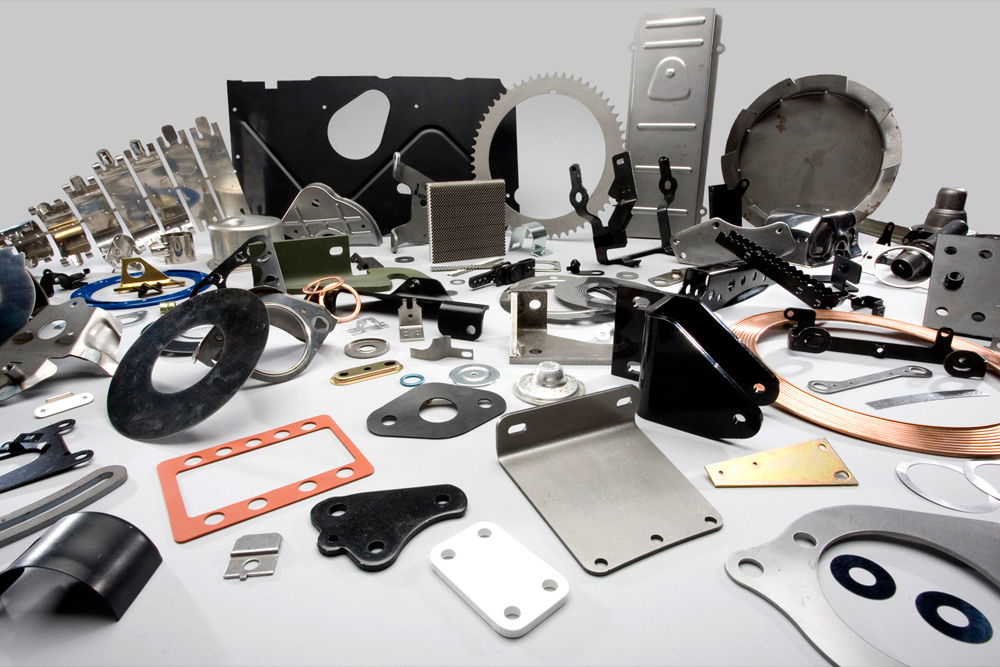 Precision Metal Stampings
Industries nationwide — from aerospace to manufacturing, construction equipment, medical devices, electrical components, and more — rely on accurate specifications and the consistent production of metal stampings. Without proven precision components, the reliability of your products is put into question, putting potential lives at risk at a time when relying on products like medical devices and construction equipment is critical.
That's why at OGS our precision metal stampings are produced at the highest quality level. Since 1959, our experienced staff has helped meet design requirements across industries. From simple ID/ODs to complex progressive tooling parts, we have the capability to perform short- and long-run productions up to millions of pieces in a year. After an initial consultation, we analyze your specifications to ensure manufacturability and staying on budget.
At OGS, we guarantee continued customer satisfaction by investing in more than 40 different stamping presses ranging from as few as 5 tons up to 500 tons. Our commitment to improving our customer experience is reflected in the growth of our capabilities over the years:
More Than 40 Presses Ranging from 5- to 500-Ton Capacity
Hydraulic Presses for Deep-Drawn Stampings
Short and Long Run Production
Spread Across Two Stamping Facilities
In-House Tool & Die Shop
High-performing products that face heavy loads and extreme wear should always be produced with precision components. Let our experienced team know more about your component specifications, and we'll get back to you with time-saving suggestions, a proposal, and a timeline.
In-House Tool and Die Shop
Although there are a lot of steps involved in tool and die design and manufacturing, our team is here to help you achieve your production goal with high-quality, cost-effective, and reliable components. Seamlessly shorten your development and production time for any essential customizations with a partner that can control quality with a full in-house Tool & Die shop.
At OGS, we are here to help you better control costs and maintain continuous quality at every stage with complete solutions for your metal stampings, from tool maintenance to repair and production. Get better control over the design of your tools and fixture needs with expert compound and progressive tooling, and more.
Simple ID/OD Tooling
Compound Tooling
Progressive Tooling
Fixturing
Wire EDM & Grinding
What is Compound Tooling?
A compound tool or die is designed to perform more than one operation with each stroke of the press. The greatest benefit is faster production — a single movement on the press can create more than a single feature on a part. For example, a compound die may blank and pierce in a single stroke. Multiple compound tools can be used in lieu of progressive tooling to offset a larger capital investment. This can directly affect the cost of the part, however, as more operations are added.
What is Progressive Tooling?
Progressive die stamping is a multi-stage metal forming process in which the final shape is given in two or more operations. In progressive die stamping, coil is fed through all the stations, and the blank is pierced and formed in the earlier stations. In the last station, the part is blanked and discharged from the skeleton. If the part cannot be formed within the metal strip (i.e., very deep drawing is present or the part size is large), transfer die stamping is used. In transfer die stamping, the part is first blanked and then formed and pierced.
Progressive tooling is great for high-volume stamping projects where design changes are few. Operations such as blanking, forming, drawing, piercing, tapping, staking, etc. can all be performed in a single tool and are highly efficient.
Take quality into your own hands with a partner that brings your tool and die manufacturing in-house. Streamline your next project by talking to our team today.