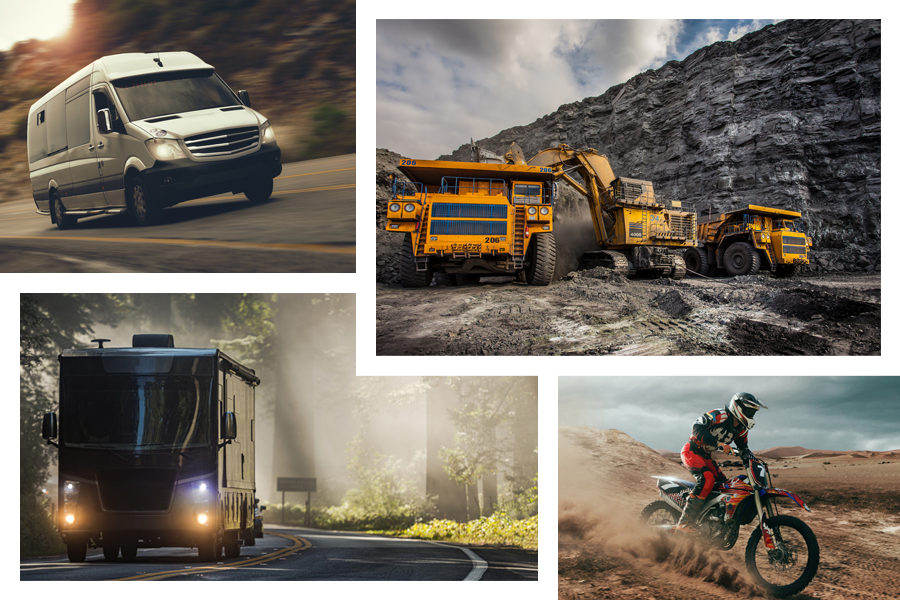 Achieve Your Automotive Metal Stamping, Fabrication, and Machining Goals
OGS Industries partners with a variety of organizations within the larger transportation industry to support their vehicular and automotive metal stamping, fabrication, machining, and welding needs. We're proud to work with companies involved in the railroad industry, off-highway vehicles, commercial vehicles, recreational vehicles, high-performance vehicles for racing, motorcycle manufacturers, the mining industry, and the aftermarket industry.
For more than 60 years, we've been supporting this global industry with low-to-medium-volume contract manufacturing. Using a variety of standard and exotic materials, we're capable of producing critical and functional parts and components for engines and transmissions. To ensure we're delivering only the best-quality components and services for your business, we maintain certifications with the following industry standards: ISO 14001, ISO 9001, and IATF 16949.
Capabilities That Move Your Organization Forward
Our contract manufacturing capabilities support your vehicular and automotive metal stamping, fabrication, and machining needs.

OGS offers more than 40 stamping presses across two facilities with capacities ranging from 5 to 500 tons as well as an in-house tool and die shop for designing, building, and repairing your tools and fixtures

In your industry, performance counts. Our advanced laser cutting, CNC punching, press brake forming, and welding/robotics capabilities consistently deliver success in automotive metal stamping and more.

Your application demands precision. With our CNC and Swiss screw machining departments, we can machine numerous parts and components quickly and efficiently to ensure reliable long-term performance.

Designed custom to meet your needs, our inventory stocking programs help you save space and costs in your own facilities while providing you with automotive parts and components with expedited shipping.
Work with a Proven Partner for Your Application
From automotive metal stamping and fabrication to CNC machining and welding services, OGS Industries is the U.S.-based partner your transportation organization needs to achieve its most demanding objectives. We offer multiple facilities to meet your production needs as well as additional value-added services and comprehensive supplier relationships for plating, heat treating, coatings, and more. If you've been looking for a contract manufacturer you can rely on, trust our experienced team — we'll get the job done with excellence each and every time.
Contact us to learn more about our capabilities or to request a quote.