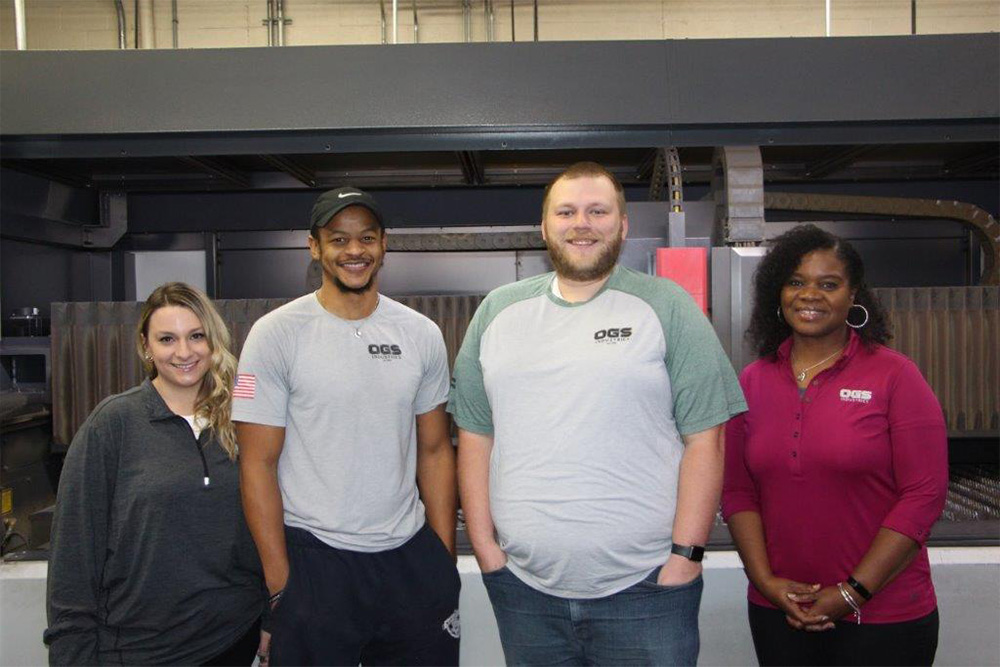 Why People Work Here – Employee Benefits
We are a 3rd Generation Family-Owned Business that treats employees like family members.
Healthcare, 401k, Dental, Vision, Life Insurance, Short-Term and Long-Term Disability
401k = 100% match on first 5%
Paid Vacation: Based on Years of Service
4 PTO days per year can be rewarded based upon perfect attendance each quarter. Earn up to 4 PTO days per year that is paid out at the end of the year if not used
3 years of service and under: 5 days after first 3 months + 5 days after first 6 months
Beginning of the 4th year through the 10th year of service: 15 days
Beginning on 11th year: 20 days
Flexible work schedule
Flexible starting times by individual
Flexible work week by individual: 4-10's, 5-8's, or 4-9's and a 4
Additional Benefits
Company-wide employee luncheons and barbeques throughout the year
Allowance for prescription glasses and steel-toed boots
Employee Referral Program up to $2,000 for each referral
Employee Assistance Programs
Free coffee for all employees
Access to Benefits: The first of the month following the first 30 days
Employee Testimonials from Anonymous Employee Survey
Flexible work schedule, Overtime Availability, Room for growth, & Good Owners – July 2022
The owners/management are the best. They leave you alone and just let you work without micromanaging. They are very family oriented. They make the workplace very fun and laid back. They really care about the needs of their staff. – July 2022
I feel valued as an employee. You can tell that they value family, and they work hard to make sure that I can work around my kids' crazy schedules. It's small enough to not feel like just a number or nameless/faceless drone but big enough to offer good benefits/perks. – July 2022
I've worked for a few different companies, and in all honesty, this is the best. We have good benefits and the pay is not bad. I could see myself working a full career in this company and yes, I would recommend this company to a friend. – January 2022
Honestly took a chance on me. I don't know where I'd be now if I didn't get hired here. – January 2022
The people and the ownership treat you with respect and you feel appreciated. – January 2022
The owners are very accommodating to family emergencies, appointments, and unexpected time off. The schedule is nice, being able to get off early on Fridays. We have the best HR person ever. Lenient work atmosphere. No micro-managing. – January 2022
The owners and HR genuinely care about their employees and treat us all like we are a part of their family. The atmosphere is very laid back, and I never feel stressed or overwhelmed when it comes to work. The shift is great because we only work half days on Fridays. If we ever have appointments or personal matters to take care of, they are always understanding and will work with your schedule. They really go above and beyond for their employees. – July 2021
The workplace culture [Makes OGS a great place to work]. It's a very relaxed environment and everyone knows their own duties and will go out of their way to help one another. We have fun while performing our work keeping in mind that our customers are number one. – July 2021
The owners and management appreciate their employees. they learn their names and actually speak to them instead of just walking past without saying a word. – July 2021
Ready to experience the benefits yourself? Reach out to our team today.
Team Events
9th Annual Chili Cook-off
This spring OGS was proud to bring back the 9th Annual Chili Cook-Off. While we took two years off due to the pandemic, we came back strong with over 14 entries. I'm a blind fast test, our four judges selected our champion, who won a $200 Amazon gift card. A big thank you to everyone who showed off their culinary expertise this year! Listen closely to the judges and adjust your reckless, we look forward to sharing this again with you next year.