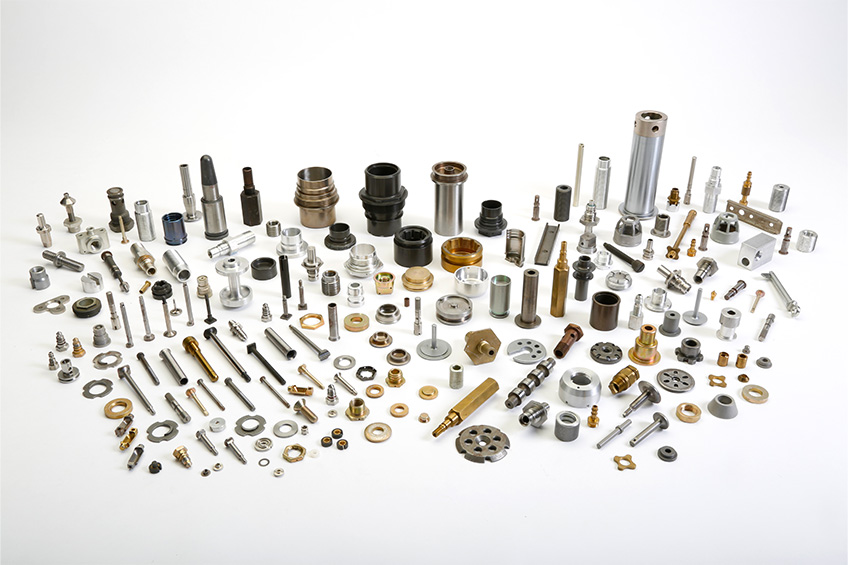 Customize Components with Modern CNC Machining
In today's evolving world, Swiss and CNC machining play a vital role in modern manufacturing and across numerous imperative industries. With CNC machining, 3D cutting jobs can be programmed with a single control. Swiss machining takes precision to the next level, completing complex designs and more machining operations than any other type of CNC machining system.
At OGS, our AS9100-certified CNC machining facilities specialize in low-to-medium-volume metal part manufacturing and produce steel aerospace parts, defense components, metal automotive components, medical instrumentation, and industrial-related metal parts. Our Akron, Ohio machining experts use both standard and exotic materials and are leaders in making precision components for unique challenges, including those in specialty markets.
Do your CNC products have unique requirements? If you have complex components for CNC machining, our team is here to help.
CNC Machining Capabilities
CNC Machining creates consistent, accurate cuts that can be repeated time and time again. Although CNC products often have unique requirements, our CNC machines utilize other tools that cover a wide gamut of machine parts. At OGS, our CNC shop specializes in lower volumes of high precision work. You can trust our experts and technology to produce an endless variety of products quickly, accurately, and reliably.
CNC Milling
CNC milling machines are known by their ability to rotate cutting tools while holding the material steady. Components produced on CNC milling machines are typically square or rectangular with numerous features. Our CNC milling machines can produce a wide range of shapes including shallow cavities and deep slots and threads.
Max Bed Size: 55" x 22"
CNC Turning
CNC turning can churn out hundreds of parts while maintaining a consistent end product. Components typically made on CNC turning centers include screws, bolts, shafts. Typically used for cylindrical parts, CNC turning can create internal and external component features.
Max Diameter: 16"
CNC Machining Materials
Our manufacturers integrate technical drawings, mechanical design, and computer programming to work with numerous materials and produce a variety of metal parts. These include materials include Steel, Tool Steel, Stainless Steels, Hardened Steels (i.e. 4140, 303, 316, Super Duplex, etc), Aluminums, Super Alloys, Inconels, Hastelloy, Brass, and Super Duplex.
For complex parts, turn to cutting-edge CNC machining you can trust and consult our experienced manufacturing team.
Swiss Machining Capabilities
For a process that is not only cost-effective, but also offers elevated precision, Swiss machines can turn metal into complex or delicate components. Known for creating cylindrical components, Swiss machining allows designers to meet the unique specifications of even the most demanding applications. With this manufacturing technique and expert support, you can meet exacting standard, including those of the medical industry.
Product Overview
Round Bar Diameter: Up to 2 1/2"
Pistons and Cylinder Sleeves — Manufactured for applications across numerous industries, these parts may vary in size up to 6 inches.
Washers — Manufactured in bulk, up to 20,000 parts per month and can be made from any material specified.
Bleeder Valves and Adapters — Most are made from hardened steel and come in various sizes. Can be produced to almost any specification.
Grip Pins and Tubes — Normally made from hardened steel and assembled with brass centers. These are manufactured in bulk to meet quantities of more than 10,000 parts per month.
Retainer Pins and Screws — Retainer pins, screws and bolts are made to the highest standards. Some of the dimensional tolerances are +/- .0005 with finishes that must be greater than 4RA or 50RZ.
Design It, And We'll Make It
As a manufacturer with years of experience and numerous certifications, OGS has partnered with many clients and produced a wide variety of parts across the aerospace, firearm, industrial, medical, recreational, and automotive industries.
Need to know more about the types of materials, features, or applications we support? Our team is happy to review your design, offer industry insight, and make adjustments as needed. Reach out to get instant pricing or expertise on CNC machining today.